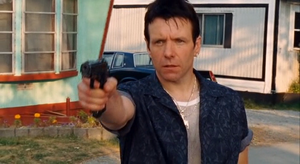 Sonny (portrayed by Hugh Dillion) is a character in "Trailer Park Boys: The Movie." He is the owner of the gentlemen's club that Lucy works at.
Characterization
Edit
Sonny is an arrogant club owner, who is a bit of an enemy to the boys, especially Ricky, because of his past with Lucy. Sonny is quick to flash a gun when provoked.
Fling with Lucy in the movie
Edit
Sonny is attracted to Lucy, and wants her to be a featured dancer in his club.
It is revealed, or at least Sonny claimed to have banged Lucy 25 times, and Lucy later said that it was 10 or 15 times max.
Sonny shows up after Ricky and Lucy's wedding to confront Lucy about the $6,000 she owes him for her tits. Ricky says that he's not paying $6,000 for fake tits, he liked Lucy just the way she was before the tits. Lucy then explains to Sonny that it was just a fling between him and her, and "this is what she wants" (to be married to Ricky). She then asks if they're cool, and Sonny responds with "we're cool, we're good", but then notices that she's wearing boots from the gentlemen's club, and tells her to give them back.
Sonny is arrested at Ricky and Lucy's wedding when Wanda tells the police to check his pockets for a handgun as she's being arrested when it's revealed that she's a wanted fugitive.